A mandolin band at Irwell in the 1930's
from "Growing Up In New Zealand 1925-1950"
http://www.nzine.co.nz/features/guinz25-50_part6.html
by Dorothy Hunt

, editor of NZine

Adelaide began her schooldays at Irwell School. She remembers the discipline as being very strict....

A highlight of Adelaide's schooldays was being a member of a mandolin band...


"The teacher, Mr Saunders, said that he would give pupils free tuition if their parents would buy the instruments. The teacher at nearby Doyleston School had a concert party and the mandolin band would join in. We even played on the radio at station 3YA. I was very sorry when Mr Saunders left as that meant the end of the Irwell band."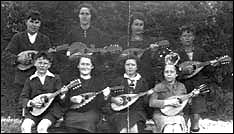 The Irwell mandolin band
Photo source Adelaide Page (née Wise)

Note: Irwell is a small village near Leeston, near Christchurch, New Zealand.